Сustomization allows brides to feel comfortable and confident on their special day without worrying about the fit of their dress.
At our wedding dress manufacturing company, we take great pride in the quality and attention to detail that goes into every dress we create. We offer a wide range of dress styles, including ballgowns, A-line dresses, mermaid gowns, and more, all of which can be customized to suit your tastes and preferences.
Monica Loretti offers various customizations for wedding dresses to ensure that every bride can have a dress that reflects her unique style. Customizations include modifying the neckline, adding additional lining, creating a strapless silhouette, adding sleeves, altering the length or shape of the train, and modifying lace designs. By offering these customizations, Monica Loretti provides brides with the flexibility to tailor their dresses to their preferences and create a one-of-a-kind look.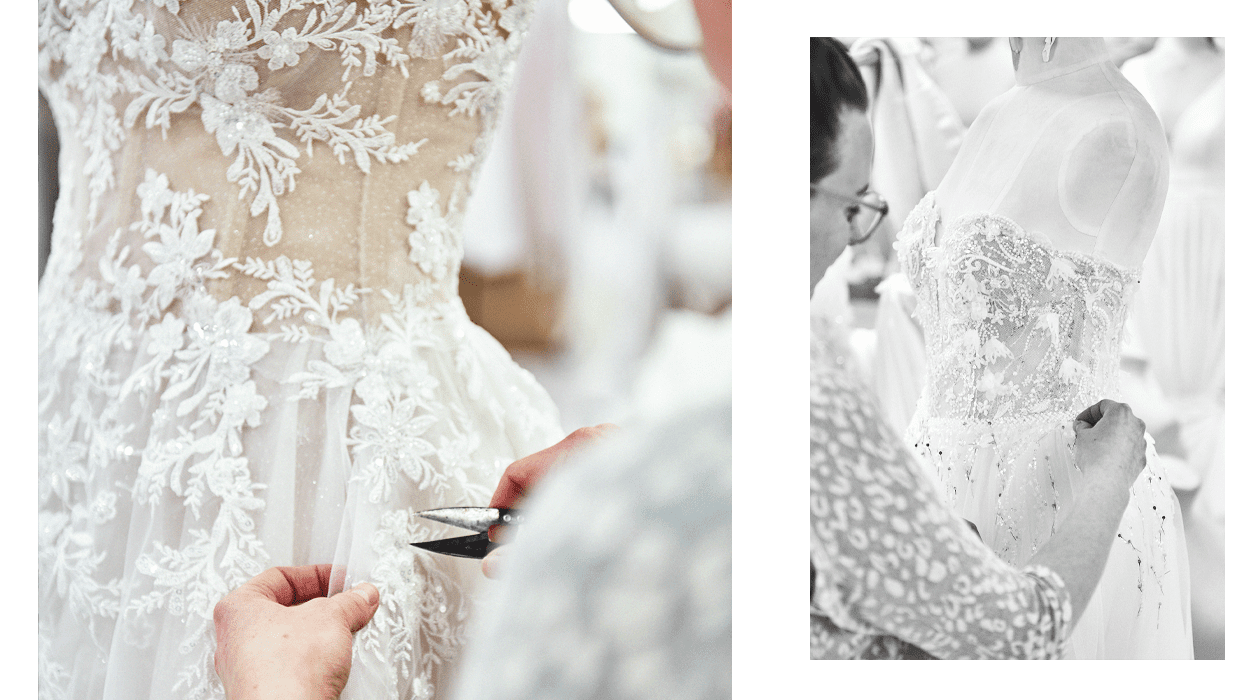 Monica Loretti offers a wide range of lace customizations to make your dress unique to you.

One of the most popular customization options we offer is the use of lace. Lace can add a beautiful and delicate touch to any wedding dress, and we work with a variety of different lace styles to create unique and stunning designs. From intricate, hand-sewn lace appliques to delicate lace overlays, our team of skilled designers and tailors can help you create a one-of-a-kind dress that perfectly suits your vision.
Modifying the neckline of a gown is a frequently requested customization by Monica Loretti.
We also offer a range of different dress elements to customize your dress. Whether you're looking for a traditional, full-length gown or a modern, simple dress, we have a variety of options to choose from. We can also customize the neckline, sleeves, and back of your dress to create a truly unique look that perfectly suits your style.
Our team understands that every bride is different, and we strive to provide a personalized and stress-free experience when it comes to selecting and modifying wedding dresses. From the initial consultation to the final fitting, we'll work closely with customers to ensure that the dress is exactly what you've envisioned for your big day.